07/04/12
Life is getting in the way of my blogging again. The lazy days of Paddle Georgia are behind me and the realities of work and my other obligations are setting in. I continue to research the Rayonier discharge issue. There is a deadline looming for public comment on a request by Rayonier to amend the current consent order relating to the discharge. This got me to thinking about how the public would be aware of the issue and even know that there was an opportunity to comment.
What I found is disturbing and illustrates one of the reasons we need to support our Riverkeepers. One of the first things I looked at on the EPD website was a section entitled "what's new at EPD". Presumably this would give me a snapshot of current issues. The first and most current entry was on the "Ogeechee River Fish Kill-May 2012" which was posted June 6, 2012. I found this somewhat encouraging as the Ogeechee River and the discharge of King America Finishing top the Georgia
Water Coalition's
Dirty Dozen list. I plan to tackle the Ogeechee issue in future posts but do not want to divert from fully exploring the Rayonier issue. The what's new section appears to cover about the last year and I could find no reference to any requested changes to the Rayonier consent order here. I decided to look under the "Rules and Laws" Section and came across"391-1-3 Public Participation in Enforcement of
Environmental Statutes".
I ask that my readers bear with me as I will now be analyzing what I call "reguspeak". Reguspeak is that language that is used to document the laws of our land on a federal, state and local level. I deal with this language extensively in my day job as an Import Director for CEVA Logistics while trying to decipher the laws and regulations impacting the import and export of goods to/and from the United States. The opening paragraph states "1) The Environmental Protection Division shall issue notices of proposed or final administrative orders and proposed or final administrative consent orders as required in applicable statutes and rules of this State.". My interpretation of this tells me that a proposed amendment to a consent order may not even require public notification. I read on. When something does require public notice under thus statute, the notice is to be made as follows: " The notices specified in (1), (2) and (3) above shall consist of posting on the Environmental Protection Division's Internet Web Site and, for orders pertaining to facilities located in counties with populations of less than 10,000 persons, written notice provided to local newspapers and radio stations. Notices shall be mailed to persons requesting such for an annual fee of fifty ($50) dollars." This solidifies that the web site is probably the best resource for this information. I find the second part rather humorous, " for orders pertaining to facilities located in counties with populations of less than 10,000 persons, written notice provided to local newspapers and radio stations.". I checked, of the 159 counties in Georgia only 20% have a population of under 10,000 people. I welcome opposing views but I doubt a radio spot has ever been devoted to the issuance of an EPD consent order and invitation to public comment. Local and even regional newspapers struggle for their very existence in the internet age. In the case of Rayonier which is located in Wayne County (population 30,099 according to the 2010 Census) a consent order would not have to be published in the local paper. Undaunted I continued to search for any reference to Rayonier's request for an amendment to the existing consent order. I found a section entitled "Events, Notices and Announcements" and according to the EPD we can "Use this section to learn about public events and to find information on various
topics including proposed rule making and permitting. This includes notices of
public hearings, public meetings and the collection of public comments.". Great, I am getting closer. I did eventually find the listing which read as follows:

Facility: Rayonier Performance Fibers, LLC/Jesup Location: Wayne County Order Number: AMENDMENT # 3 TO
EPD-WQ-4837 Cause of Order: Revision to original order from March 6,
2008 to remove requirements for installation of O2 delingnification bleaching
system on C-Mill Requirement(s) of Order: Alternative
technologies for color reduction for production of ultra high-purity cellulose
specialty fibers are being substituted and Rayonier shall install appropriate
equipment in C-Mill screening o Settlement Amount: None Date
Notice Posted: June 20, 2011 Comment Period Closes: July 20, 2011
You have to search for the information you cannot browse and if you put "Rayonier" in any of the facility searches nothing comes up. I had to look at all listings for Wayne County to find what I was looking for. Even if you find this there is no detail on what Rayonier is proposing so anyone wanting to comment with any amount of credibility would have to still do further research and possibly request documents publicly available from the EPD.
I know this post has been a bit "in the weeds" but there is a point here. How on earth is the layperson supposed to know about what the EPD in working on and what those who seek to discharge effluent into our rivers are up to? This is one of the core reasons that we must continue to support our Riverkeepers and the Georgia River Network. Without their vigilance and "getting down in the weeds" public awareness to many of the issues effecting our rivers would be nonexistent. Public notifications by the EPD are an abysmal failure based on my findings and do not support the very foundations of the unalienable rights we celebrate on the day I post this entry.
06/29/12
We explored the Rayonier discharge into the Altamaha a bit and discussed manufacturing in the US in previous posts. The Altamaha Riverkeeper and Georgia River Network have provided me with some great source material. I have read through some of the documents and have learned a lot over the last week. The very first thing I would like each of my readers to do is go to the Rayonier website. Watch the video at the top of the page in its entirety. There have been very few actual comments posted so before I go any further with this discussion please take a moment to watch the video, read my previous posts and review the material related to the Rayonier discharge on the Altamaha Riverkeepers site.
I would next ask that you compare the video from Rayonier website and what is said to what is actually happening at the Jesup plant and to this news video. If you were a Paddle Georgia participant this year please comment on your impressions while paddling through this area. I have more to share but I would like some dialog to be generated by this entry before continuing the discussion. My hope is that this discussion will lead us to raised awareness and result in a focused, informed letter writing campaign to EPD, Rayonier and others to clean up the discharge.
I am a bit hesitant to write about my daily adventures on Paddle Georgia 2012 after the fact. Over a week has gone by and I am finding I need to rely on pictures I took, pictures others took, Gwyneth Moody's great entries in the Paddle Georgia blog, Joe Cook's maps and Tara Muenz's awesome cartography. In retrospect I am fine with that. I lived in the moment for an entire week at Paddle Georgia, the memories are part of me and have left a lasting impression. I continue to dig in to the Rayonier issue but I need a break from that today…….
Originally this post was going to be entitled "Moody Forest Minuet" and cover my thoughts on that first day. I am discovering however that as I write these entries many take a distinct turn as the thoughts come together. Maybe a recap of each day is not nearly as important as what is learned from the collective experience that IS Paddle Georgia.
Every year when I drop off my boat on Friday at the put in for another Paddle Georgia I look longingly at the river we are about to paddle. If you paddle at all leaving your boat near a river bank and driving away is counter intuitive. I want to be on that river! The first paddling day of paddle Georgia is electric. Everyone wants to get started. There is breakfast, filling your water bottles and getting your lunch if you ordered one. Mundane tasks given the adventure ahead. For first timers the biggest shock on day 1 is the inevitable bus line. Camping at the put in is never really feasible so we must be shuttled to and from the put ins and take outs.


Little River Guy experiences the bus line on Day 1
To quote from the paddlers information packet provided to all registered paddlers:
"Paddle Georgia is not a commercial, for-profit guided trip for individuals. It is an educational community adventure led by volunteers and staff of non-profit organizations and depends on well-prepared and self sufficient individuals and the pooled efforts of the entire Paddle Georgia group. As such, participants should come prepared to take care of all their own needs and to volunteer their services during the course of the week. These services include assisting themselves and others at launch sites/take outs, loading/unloading gear trucks, serving dinners, breakfasts and lunches, or lending a hand to your paddling friend when one is needed. If you wish to be pampered by professional guides, this isn't the trip for you. But, if you want to experience a real community, brought together under a common goal and by the thrill of adventure, Paddle Georgia is it."
For the uninitiated the lines seem unnecessarily long and the buses arrive too far apart. In reality this is all true, but veterans get it. Paddle Georgia is not always convenient. Sometimes the bus rides seem to take forever, sometimes we wait in line for a while, sometime we don't get the lunch we ordered (before this year I would not have mentioned that but someone owes me two PB & Js). The places we will go are not tourist destinations, there is no preexisting infrastructure to get us there, many will never see sections of river that we see and in fact WE may never pass this way again.


Photo Credit: Gwyneth Moody, Georgia River Network
Artwork by Dan McNavish and Friends
If you find yourself getting impatient in a line, turn to that person in front or behind you and strike up a conversation. I have met some awesome folks this way. Some people you meet you will not see again until next year and yet somehow when you see them again you just pick up where you left off. My best advise for first timers is come in with the right attitude, people are friendly, just about every paddler I have ever met is. To hijack a famous quotation by John F Kennedy, "Ask not what Paddle Georgia can do for you, but what you can do for Paddle Georgia". See someone struggling with a boat? Help them out, give of yourself without expectation of reward. I have met many people on Paddle Georgia just by lending a hand at some point during the trip. Conversations started and friendships were forged. We live in a world were it is easy to forget that we can make a difference even on a small scale just by offering a kind word of encouragement, helping someone move their boat, or any number of other small gestures. Paddle Georgia provides many opportunities to put this into practice. I have always felt that those participating in Paddle Georgia each year are more than a group of random paddlers, we must work together towards a common goal which is to get ourselves collectively down the chosen river for that year. We face challenges, we overcome them, we celebrate the victories. Together as one.
06/27/12
Our paddles are often in remote areas and access to the internet can be a struggle at best. It was thus that I learned my first lesson about blogging on Paddle Georgia… it is not easy. Days 1-3 were prime examples of this. I had my laptop, I had power but internet access eluded me. We stayed at a cabin in Gordonia-Alatamaha State Park. The park has five such cabins and they are very nice, so nice in fact that I felt a twinge of guilt staying there in recognition of the inevitable limitations imposed on my paddling brethren either camping on the grounds of or sleeping inside the hallways and gymnasium of Tattnall County High School.
Here are a few photos of the cabin:

For all its amenities our cabin had no internet access, normally this would be a plus and I really would not want this feature in the cabin but for blogging it created an issue. Internet access was available in the park at the ranger station which was probably about a half mile away from the cabin but there was no convenient way to get there short of walking and hanging outside with the bugs while trying to blog (the ranger station was always closed by the time we got off the river).
While we are on the subject of accommodations we should talk about the other more popular options for sleeping. Staying at a hotel or cabin has its benefits but this also isolates you from the full Paddle Georgia experience. It is also an additional expense which can be avoided by using the other options.
Camping on site at the current staging area (usually a local high school) offers a full immersion experience in Paddle Georgia. Veterans have figured out how to choose the best spot and also how to maximize comfort and utility at a given site. A move day that involves setting up a new camp usually means getting off the river earlier to get a "good" spot. Good is relative of course as we are talking about a high school campus that was not designed for camping and in most cases there are restrictions about where you can camp so athletic fields or other sensitive areas do not get damaged. Shade is at a premium so you will see many creative set ups to take advantage of ANY available area that offers even minimal shading. I have never had much success at finding shade because above all I seek to maximize my time on the river for any given day. I like camping now that I have the right equipment for it. My recommendations for the right equipment are:
1. A good tent that is not to small and will withstand wind gusts. Don't scrimp on the tent if you are going to camp, it is money well spent.
2. A really good inflatable pad to sleep on. I have tried the cellular foam pads and don't find them very comfortable. Trust me you want to get a good nights sleep on Paddle Georgia! I use/love an REI 3.5″ thick camp bed. It is a bit bulky but that is not really an issue in this instance. I also carry mine when camping out of my kayak, it takes up precious space BUT ensures a good nights sleep, the benefit of which cannot be overestimated.
3. A tent fan. It took me two years to give in to this but when it is hot you want air circulation in the tent. Campers were very lucky this year as we had some great breezes but this has NOT been the norm for Paddle Georgia in my past experiences. I found a Coleman model that also has a light built in which come in handy.
4. I bring a sleeping bag but due to temperatures in June I usually leave it in the car once we leave the initial location and there is a clear picture of the weather for the week. Instead I use my silk bag liner which crushes up very small and provides ample insulation and comfort.
This is one of my campsites from Paddle Georgia 2011. Notice the complete lack of shade due to my shameless lollygagging on the river.
NOTE: I have received all kinds of crap about posting this picture out of context on my Facebook page. I did not camp at all on Paddle Georgia 2012, never said I did. Some folks have hotel envy and cannot let it go….. You know who you are. The picture is to illustrate a typical campsite of mine (and this is MY blog). I will be commenting on the hotel experience so stay tuned. I would also like to point out to the haters that I had copious amounts of hot water (using a low flow shower head of course) when taking a shower all three days in my luxurious cabin so nah nah boo boo to you…..
Here is a shot of Tara Muenz helping to ensure people don't miss the camping area. What you see in the background is a typical Paddle Georgia high school camping experience.

Photo Credit: Gwyneth Moody Georgia River Network
Staying in the gym/hallway is an experience I can not speak on first hand. Areas are designated as OK to sleep in while at the current facility. Some folks do this every year and swear by (or at) the experience. A big benefit of indoor camping is AIR CONDITIONING. I believe the gym in at least one location this year was not air conditioned but spaces in certain the hallways were made available. Here is a gym camper setup:

Photo Credit to Bobby Marie! Thank you for sharing your digs with us!
I may actually try this at least one night next year to have the experience. Gym campers feel free to add your comments on what you like/dislike about this option.
06/26/12
I have been researching the Rayonier discharge issue since my return from Paddle Georgia. Deborah Sheppard of the Altamaha Riverkeeper and Chris Manganiello at The Georgia River Network have been awesome in answering my numerous questions. I now have a copy of the discharge permit issued to Rayonier back in 2001 to peruse. The issue is complex in my view. One option to eliminate the discharge into the Altamaha River would be to close the plant. The discharge would stop immediately and presumably the ecosystem would start to heal downriver. Of course approximately 800 people would be out of a job and the City of Jesup would lose it's largest employer. The ripple through the local economy would no doubt be harsh and Jesup would suffer beyond already tough economic conditions. I don't consider this an option even for a moment, people were great to us in Wayne County, they deserve the opportunity to prosper and I don't think anyone on either side of the argument wants this to happen or really sees it as a viable solution. In one way this creates common ground for opposing points of view.
The reality in our country is that many companies have decided to move production offshore. Rayonier has been in Jesup since 1954 and I am sure that the availability of their primary raw material (wood) from local land holdings is one big reason. From an environmental perspective moving the factory to another country may conveniently solve the issue locally but from what I have read the environmental issues don't go away they just impact someone else. I have ordered a copy of "The River Runs Black: The Environmental Challenge to China's Future" to further explore the impact of economic growth with little or no consideration of the long term environmental impact. It comes as no surprise that a great percentage of the goods we purchase are now made in China. The goods we use everyday have to be made somewhere and we know that rarely is that somewhere within the confines of the United States of America. Even the ball caps we proudly wear announcing our participation in Paddle Georgia are made somewhere else (Vietnam this year, Banlgladesh in 2011). China's economic growth has come at a great environmental cost. I bring this up here because I heard several people talking about boycotting products produced by the Rayonier plant. Looking at what the plant produces this would probably be very difficult to nail down since it does not appear that the material produced is what goes directly to the consumer. You can go here to get more info from the Rayonier website specific to the Jesup mill.
It also is not the answer in my opinion because if the Rayonier facility did not exist in Jesup Georgia or somewhere else in the US it would exist in some other country with environmental laws inferior to our own. The river discharge problem would still impact someone.

This is why we must "think globally and act locally" as we struggle to balance economic stability with care and respect for the environment. Rayonier's discharge is a problem, a big problem but my other experience with the Altamaha was a river that was pristine and remarkably free of the trash we are so used to seeing on many other rivers in Georgia. My journey to understand continues.

06/25/12
I am determined to document my experiences and thoughts about Paddle Georgia 2012 albeit after the fact. I have more time now to contemplate my journey and also to articulate these thoughts in a mildly entertaining way. I have received some great feedback on the few posts so far so I will continue to forge ahead.
This year was a little different in terms of logistics, Dan Jones, Dee Stone, Bonny Putney and I decided to go the hotel/self shuttle route.

We agreed that we would carpool from a central location in Atlanta and drive to Reidsville as a group. The reasoning also was that this would somewhat reduce the carbon footprint of our trip. A kayak trailer was also available making this possible. We met around 9 in the morning and were on the road by about 9:30. Little River Guy came along by popular demand. The trip to Reidsville was about a four hour ride but this group has traveled together before and conversation flowed easily, making the time pass quickly. Every time you spend time with folks in a car on an extended journey you always learn new things about them. Not everything learned will appear in this blog…. It turns out Dee loves ice cream as much as I do. This made the fact that every small town in Georgia seems to have a Dairy Queen almost cruel. You never want to be the one to ask to stop for an ice cream but there was very little resistance (actually no resistance) to the suggestion and this leads me to believe that Dan and Bonny may be casual about the need for ice cream but are secretly ice cream fanatics like Dee and me. Once we arrived at Deen's Landing the magic that is Paddle Georgia began to unfold. Deen's Landing was the starting point for our Paddle on Saturday.
The logistics of moving 350 people down a river for a week have been refined over the 8 previous years that Paddle Georgia has been in existence. The reality is at this point everyone is pretty darn good at it. First order of business is to drop off your boat IF you are not taking the end of river shuttle back to Reidsville at the end of the trip. They say timing is everything and if you are taking the end of river shuttle back you load you boat in Darien (the end of the trip) on a semi and these boats are transported to Deen's landing. Of course as we were about to leave Deen's landing the truck from Darien pulled up, there were a handful of folks on hand and none of us wanted to leave the task of unloading the 70 or so boats to them without lending a hand. Joe Cook mumbled something like "well you can go if you want to….." with the look of a puppy in need of adoption. This was also an opportunity for Joe to meet Little River Guy for the first time. For those of you that do not know Joe, he is the Executive Director of the Coosa River Basin Initiative. Joe is also the visionary who came up with the idea that is now Paddle Georgia.
When the work is done here is one shot of what 400 kayaks and canoes (and 1 paddle board) in one place looks like.

Photo by Alan Kendall
The work done, we prepare to leave Deen's Landing but not before Little River Guy contemplates the trip ahead from Mile 0 on Paddle Georgia 2012.
06/23/12
I have arrived back in Marietta after having been immersed in a week on the Altamaha River through participation in Paddle Georgia 2012. I will start by saying the experience was one of the more profound for me of the 4 Paddle Georgia events I have attended. This year had a definite undercurrent which was the discharge produced by the Rayonier Mill in Jesup. I plan to write about my experiences and my opinions on this issue and encourage dialog in the blog of opposing opinions and corrections to any factual information I may have wrong. I wanted to come away from this week with a clear position on this matter but I still have many questions and when I look at the issue it has many layers which cloud the "right" solution to the problem. The trip really created some dialog between many Paddle Georgia members and there are a surprising number of views on this issue. This year I believe was a milestone in Paddle Georgia history. Everyone was aware that we would be paddling directly through the discharge area and like it or not everyone had to contemplate what that experience would be like and to form at least a cursory opinion on what should be done about the problem. We paddled directly through number two (pun not intended but appropriate) on Georgia Water Coalition's Dirty Dozen list. This becomes the starting point for the discussion. The Rayonier Corporation is the largest employer in Jesup with over 900 employees. We stayed at the Jameson Inn while in Jesup, and our view was of closed businesses directly in front of us and across the street. With a population in 2010 of approximately 30,000 Jesup is a prime example of the struggles of small town America. People are friendly here, the Wayne County tourism board worked hard to make our visit pleasant, locals were curious about our trip and very engaging. Staying in Jesup for a few days put a face on the other side of this issue, the people who rely on Rayonier for their livelihood and prosperity. I think everyone was impacted by this issue during the week and many will continue as I am to work through the facts and better understand the issues involved. Paddle Georgia may be officially over as an event but I believe this year stands out as one which will continue to shape the actions and opinions of all participants as we return to our respective watersheds.
06/19/12
I have learned over the past four days the challenges of blogging from remote areas. The internet access we often take for granted was not a given in Reidsville and I experienced a communications blackout from Friday through Monday. I will be catching things up while here is Jessup at the Jameson Inn. We have completed The Moody Forest Minuet, The Ode To The Ohoopee, and The Big Hammock Hustle and traveled 36 miles of the Altamaha River. Today we will do the Jaunt to Jessup and log our longest paddling day so far at 17 miles. Internet access is now plentiful so posting will be ramping up for the remainder of the trip.
06/14/12
My packing is about done for the trip. The adventure begins tomorrow with the drive to Reidsville. Before I embark on this epic adventure I want to say a few words about the boat I will be paddling.


My Pungo 140 has been with me from the beginning, it was purchased about 8 years ago at Alden of Sunapee in Newport New Hampshire. Blue has a sibling, a Mango Pungo 120 purchased at the same time. Back then my older son Mike was just starting high school and spending time together was becoming a challenge. I asked Mike one day if there was something we could do together that he really wanted to do, that we could share as father and son. Kayaking was something we both agreed would be a common thread of interest. Little did I know that that purchase on that day would change my life. We tried a bunch of boats that day but I kept coming back to the Pungo. I had never even sat in a kayak before but the Pungo was extremely stable and had a very generous cockpit which made entry and egress very easy. I was drawn to the blue color and decided on a 140 and a 120 so we would have some choices when paddling and at that time did not really know which would be more suitable for me in the long run. Both boats paddle straight and true and are very comfortable. The 140 however quickly became my boat of choice and we have been through a lot together. This trip will mark the fourth Paddle Georgia for the blue Pungo. I have entered races with her, I have camped out of her, and I have seen some amazing wildlife while paddling her down many of Georgia's rivers. I really thought I would outgrow this boat as my paddling experience increased. The truth is I still love this boat. She has scratches, patches and dings but when she and I get on the water we are one. A single stroke of the paddle produces an admirable amount of forward motion. The boat you paddle is your conduit to the pulse of the river. I recently purchased a Jackson Rogue to do more whitewater paddling with. Blue although remarkably nimble for her length does not like tight twisty rivers but set her loose on flatwater and she runs like a thoroughbred. There is no other boat I would rather be paddling in for the adventure before me.
Totally missed a posting yesterday while working on disengagement. I really have not said anything about the river I will be paddling next week so today that is what we will explore. Originally the trip was to start on the Ohoopee River and then flow into the Altamaha. Due to low water levels the decision was made to add two more days further back on the Altamaha.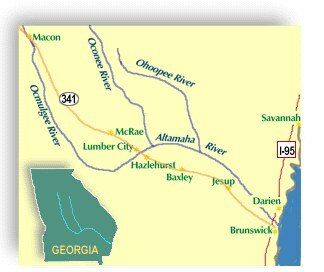 I don't mind a challenge but I have to say that all the discussion of deadfall on the Ohoopee was giving me pause. My very first Paddle Georgia experience was on the Flint River for two days at very low water levels and let's just say it was "interesting". That is the way a good river trip is though, you never really know what to expect from year to year or day to day. It is part of the appeal and at the same time why some folks, I suspect, only do Paddle Georgia once. The rivers we paddle are not amusement parks or tourist attractions. Paddle Georgia is about experiencing a particular river as it exists and the river makes no accommodations for casual visitors. The Paddle Georgia Navy will systematically makes its way down 105 miles of the Altamaha from Reidsville to Darien despite any obstacles we may encounter. There are no portages since the Altamaha flows freely to the Atlantic Ocean for the entire 137 miles from its origin at the confluence of the Oconee River and the Ocmulgee River. I am finishing up my reading of "Drifting Into Darien, A Personal and Natural History of the Altamaha River" by Janisse Ray. I am really enjoying the read and the book provides great historical and personal context to the Altamaha River. I like to know some of the history of the rivers I paddle, and can often picture activity from the past as I paddle in the present. With one more day to go before heading to Reidsville I am, as expected, behind in packing but I know it will get done and the adventure will begin tomorrow morning.

06/12/12
I would like to discuss another aspect of preparing for Paddle Georgia that does not involve equipment. This is the art of trying to disengage yourself from the world as you know it. I think this is the hardest part of the preparation. In a world that's going extremely fast you will have to step into the slow lane. Your job will go from what it is today to waking up with one basic objective, to get on the river and paddle until you get to the takeout. I recognize that not everyone reading this will be employed so your perspective will no doubt be different than mine. I am fortunate to have a means to support my family that has so far weathered the storm of our turbulent economy. This is not to say I have not been impacted by downsizing, consolidation and cost containment, I surely have. Companies continuously strive to do more with less human resources and for those in this situation there is an endless stream of new tasks and responsibilities with little end in sight. My way of dealing with this is to ensure that I never stop striving for balance between work, family and leisure time. This is never achieved completely but I think one must always be mindful of this. When I sent my boys off to college my last discussion with each of them was my infamous "balance" talk. In their case we talked about the balance between getting an education and being on your own for the first time in your life and everything that comes along with that….. nuff said.. I think I got through to them, I was pleased to see the following on my son Will's Facebook page recently:

Time to talk about one of the other important aspects of being out on a river for a week, Hydration:
From the Paddlers Info Packet for Paddle Georgia:
"Sun and Heat—Hats and appropriate sun screen are recommended. If you get too hot, the river comes with built in air conditioning – get in and cool off. You should carry at least three quarts of water each day to avoid dehydration. Sports drinks with electrolytes are also recommended. The first two days are usually the most difficult as we acclimate from spending lots of time in air conditioned buildings to spending all day in 80-90-degree heat. Prepare by drinking lots of fluids in the days leading up to the trip."
As my awareness of where our drinking water comes from has grown over the past ten years (that is how long I have been kayaking give or take 6 months) so has my understanding of the importance of hydration. I also discovered that many headaches I would get were probably a direct result of being dehydrated. Dr.org website sums it up:
"Why is it so important to stay hydrated?
Your body depends on water for survival. Did you know that water
makes up more than half of your body weight? Every cell, tissue and
organ in your body needs water to function correctly. For example, your
body uses water to maintain its temperature, remove waste and lubricate
joints. Water is essential for good health."
It seems from my research that the average time a person could survive without food is three weeks, survival without water is a mere three days. This is a striking contrast to me and serves to reinforce why we must all seek to protect this resource. We tend to take the availability of clean potable water for granted but according to water.org a staggering 884 million people around the globe lack access to clean water.
So today I add to the list of "must take items":
5 Kleen Kanteens which I fill up each morning before heading to the river. Most of them are filled with water, one will be filled with a sport drink of some type for electrolyte replacement. This more water than I probably need for the day however on more than one occasion I have run into someone who needs some and it is always nice to be able to offer it. I have come across folks who were bordering on severe dehydration and it is not pleasant. I love Kleen Kanteens, yes they are generally more expensive than other water bottles but they are made for food quality stainless steel, take a beating and keep coming back for more. They do not "color" the taste of the contents and I have yet to have to replace one. Don't bother getting anything but unpainted silver as any color will quickly get worn off off. This is definitely a case of you get what you pay for. There are imitators and aluminum bottles that look similar but for me it's Kleen Kanteen all the way based on field testing.
So also started a regime of ensuring proper hydration leading up to the paddle which means I am drinking a lot of water regularly throughout the day.

06/11/12
Today I began to realize that I am heading out for Paddle Georgia on Friday. Thus begins the ritual that I don't quite have perfected yet. Checked the first aid kit, every OTC medication has expired so a refresh is in order. Paddle Georgia is to my perishables in the first aid kit what daylight savings time is to smoke detector batteries. I also started pulling the things I REALLY need for the trip. Every Paddle Georgia I have been on to date has resulted in me packing way too much stuff. This year I vow it will be different. I am starting to stage items that are essential:
1. PFD with 2 carabiners and 2 prusik loops. I don't plan on any swiftwater rescues or boat extractions on the Altamaha but every time you take one of these classes you want to ensure you are prepared for anything. I had a similar experience with my Wilderness First Aid training, by the time I got done with that class it was obvious my kit needed to be upgraded.
2. Paddles (bought a lighter one this year) The other paddle is in case you lose the first one, it does happen and its a loooong way to an outfitter on the Altamaha.
3. Kayak (always a bummer when you forget the boat, more on my old friend in a later post)
4. Gel Seat (OK maybe not essential but a wise man once told me never to apologize for certain creature comforts enjoyed while paddling)
5. Waterproof lunch bag. (again not essential but you always get your lunch in a paper sack and I would always get it wet before it was time to eat) I found a really neat one at the LL Bean Outlet in NH. It is actually something for fishing I think but looks like a fanny pack which is probably why it was on sale at the outlet. What self respecting fisherman would be caught wearing a fanny pack?
6. Throw bag. I have used this so much in practice I will never paddle without one. One of the best tools we have for river safety in my opinion.
That's is it for today, let me know your comments or suggestions for the blog.
Mike
Photo by Glen Smith
I have never done a blog before so I thought I would give it a shot starting with Paddle Georgia 2012. Feel free to check in here for a summary of each days paddling adventures. I will also post here in the days leading up to Paddle Georgia. That's me above in my Jackson Rogue 10. The Wilderness Systems Pungo 140 gets to do Paddle Georgia 2012, more on that boat later.