06/14/12
My packing is about done for the trip. The adventure begins tomorrow with the drive to Reidsville. Before I embark on this epic adventure I want to say a few words about the boat I will be paddling.


My Pungo 140 has been with me from the beginning, it was purchased about 8 years ago at Alden of Sunapee in Newport New Hampshire. Blue has a sibling, a Mango Pungo 120 purchased at the same time. Back then my older son Mike was just starting high school and spending time together was becoming a challenge. I asked Mike one day if there was something we could do together that he really wanted to do, that we could share as father and son. Kayaking was something we both agreed would be a common thread of interest. Little did I know that that purchase on that day would change my life. We tried a bunch of boats that day but I kept coming back to the Pungo. I had never even sat in a kayak before but the Pungo was extremely stable and had a very generous cockpit which made entry and egress very easy. I was drawn to the blue color and decided on a 140 and a 120 so we would have some choices when paddling and at that time did not really know which would be more suitable for me in the long run. Both boats paddle straight and true and are very comfortable. The 140 however quickly became my boat of choice and we have been through a lot together. This trip will mark the fourth Paddle Georgia for the blue Pungo. I have entered races with her, I have camped out of her, and I have seen some amazing wildlife while paddling her down many of Georgia's rivers. I really thought I would outgrow this boat as my paddling experience increased. The truth is I still love this boat. She has scratches, patches and dings but when she and I get on the water we are one. A single stroke of the paddle produces an admirable amount of forward motion. The boat you paddle is your conduit to the pulse of the river. I recently purchased a Jackson Rogue to do more whitewater paddling with. Blue although remarkably nimble for her length does not like tight twisty rivers but set her loose on flatwater and she runs like a thoroughbred. There is no other boat I would rather be paddling in for the adventure before me.
Totally missed a posting yesterday while working on disengagement. I really have not said anything about the river I will be paddling next week so today that is what we will explore. Originally the trip was to start on the Ohoopee River and then flow into the Altamaha. Due to low water levels the decision was made to add two more days further back on the Altamaha.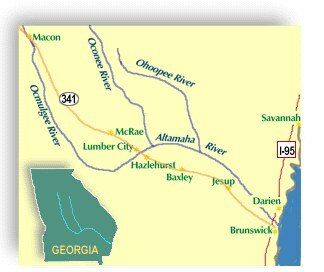 I don't mind a challenge but I have to say that all the discussion of deadfall on the Ohoopee was giving me pause. My very first Paddle Georgia experience was on the Flint River for two days at very low water levels and let's just say it was "interesting". That is the way a good river trip is though, you never really know what to expect from year to year or day to day. It is part of the appeal and at the same time why some folks, I suspect, only do Paddle Georgia once. The rivers we paddle are not amusement parks or tourist attractions. Paddle Georgia is about experiencing a particular river as it exists and the river makes no accommodations for casual visitors. The Paddle Georgia Navy will systematically makes its way down 105 miles of the Altamaha from Reidsville to Darien despite any obstacles we may encounter. There are no portages since the Altamaha flows freely to the Atlantic Ocean for the entire 137 miles from its origin at the confluence of the Oconee River and the Ocmulgee River. I am finishing up my reading of "Drifting Into Darien, A Personal and Natural History of the Altamaha River" by Janisse Ray. I am really enjoying the read and the book provides great historical and personal context to the Altamaha River. I like to know some of the history of the rivers I paddle, and can often picture activity from the past as I paddle in the present. With one more day to go before heading to Reidsville I am, as expected, behind in packing but I know it will get done and the adventure will begin tomorrow morning.